With the increasing number of Amazon sellers, price wars are common on Amazon. Apart from competing for the best product to sell on Amazon, FBA sellers likewise compete for the lowest price offer. 
Both sellers and shoppers alike are using a price tracker to track Amazon prices. Amazon price trackers are essential for sellers to track Amazon prices to make proper price adjustments.
Simply put, a price tracker is a tool that tracks, compares, and analyzes item prices from online stores like Amazon.com. Using a price tracker is crucial to stay ahead of the competition.
The Amazon
Price Tracker
and Price Wars
A price tracker is an Amazon seller tool or software that can track the fluctuations of product prices in the marketplace, including Amazon.com. 
If a product price increases or item price drops, sellers receive a notification. An Amazon price tracker also helps you efficiently compare the prices of different products. 
A price tracker makes tracking prices on Amazon and other retail platforms easier while providing critical information to make a pricing decision, which is a crucial factor when it comes to Amazon price wars.
The Amazon Price War
An Amazon price war can be defined as a competition between Amazon sellers who intend to outbid or outprice their competition by slashing prices in order to obtain a more significant market share. 
In a price war, the main objective of a seller is to repeatedly reduce the listing price to offer the least expensive deal. This approach stems from the misconception that the Amazon Buy Box algorithm awards the Buy Box spot to sellers offering the lowest price. In fear of losing sales and with the intention of keeping up with the competition in terms of price changes, Amazon sellers rely on price trackers for price change notifications. 
Things to Consider When Choosing a
Price Tracker
Since there are numerous price tracker apps on the market today, you should carefully choose where to invest your resources. When choosing a price tracker, you should check whether the price tracking tool:
Offers competitor's

price changes,

full review

Includes mobile interface or even

Chrome extension

Is capable of tracking any product on Amazon

Is user-friendly and reasonably priced
Best Price Tracking Tools for Amazon
When it comes to Amazon FBA, having insight into competitor's pricing is essential. Keepa offers Amazon product price tracking.
With Keepa's price tracking feature, you can set price tracking for chosen products at any time. The software automates price tracking with access to historical price change data for the chosen product. 
If you follow a specific item and want to know when a price drop was made, you can be notified via email. If you wish to try Keepa for your Amazon FBA business, you can try it for free or avail their monthly subscription for a premium user experience. 
Price Tracking Features & Benefits
The

monthly subscription

plan of Keepa is reasonably priced

Quick to load on your Android as it is on PC

Price monitoring extends to other countries

It has a user-friendly interface, requiring a shallow learning curve for first-time users

Extensions available for Firefox, Chrome, Opera, Microsoft Edge, Opera, and Safari browsers. 
Usage Charge: Freemium and Subscription Based
One of the widely used softwares to track price changes on Amazon is CamelCamelCamel. 
This software is completely free if you wish to use only its price tracking feature. You can also avail the email integration to receive notifications via email when an item or listing you are monitoring drops in price. 
This price tracker app comes with price history charts. This particular feature gives sellers an overview of how the product price dipped and raised over time. This gives sellers or shoppers an idea of where the price is headed. 
Price Tracking Features & Benefits
Has Amazon Price Drop Alerts

Easy to understand Amazon price history charts

Accessible via mobile or desktop for ease of use

Shows the current price, the lowest and highest price of a product 

Notification when the price of an item that you are tracking drops in price or makes a sale
Usage Charge: The Price tracking feature is FREE
If you wish to track Amazon prices and deals the Amazon way, you can use the tech giant's own price tracking tool. Amazon also has its own price tracker tool called Amazon Assistant. This software is free to use and available as a browser extension for easy price tracking of Amazon products.
This price tracking tool mainly aids in the comparison of listed items and prices online. This software benefits both sellers and shoppers alike through its customizable user experience.
Amazon Assistant is capable of providing notifications about your Amazon transactions, special offers, deals, and more. 
Price Tracking Features & Benefits
Universal Wish List for shoppers

Personalized recommendations with home features

Order updates, along with new deals every day
Usage Charge: Free
This price tracking software tracks Amazon prices while providing price drop alerts. However, what makes this price tracking tool unique is its cashback program. 
You will receive cashback for using Earny while shopping online. This is secondary to the attractive discount offers you will get from the price drops. 
You can use Earny with your android or iOS smartphones. Alternatively, there is also a browser extension for sellers using desktop or laptop.
Price Tracking Features & Benefits
Referral program 

Cashback program 

Multiple platform compatibility

24/7 price tracking and price drop alerts 
Usage Charge: Subscription Based
Price Tracker for Amazon currently works only for Android users. This is an app-based price tracking software that tracks Amazon prices while providing fast and reliable notifications. 
This software is versatile enough to be used on the following Amazon global marketplace:
www.

amazon.com

www.amazon.co.uk

www.

amazon.com

.mx

www.amazon.ca

www.amazon.de

www.amazon.es

www.amazon.fr

www.amazon.it

www.

amazon.com

.br
Price Tracking Features & Benefits
Price drop notifications

Can showcase price change history

User-friendly app interface

Capable of wishlist import
Usage Charge: Free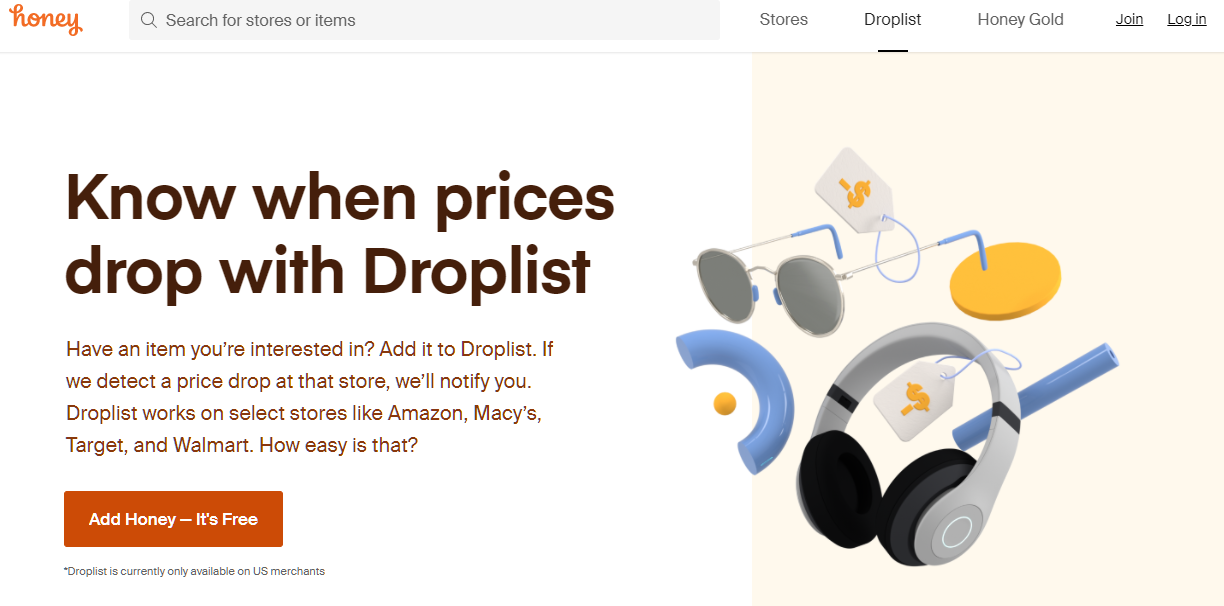 The app will notify users when a price drop is detected in the market, which makes it an ideal seller tool for some Amazon sellers for price drop monitoring. Aside from that, app users also use Honey for finding coupons and promotional codes.
The monitoring capability of this app extends up to 90 days. It can also showcase historical pricing up to 120 days. It is available as an app or browser extension.
Price Tracking Features & Benefits
Can showcase price change history

User-friendly app interface

Has cashback and referral program

Can also track coupons or promotional codes
Usage Charge: Free 
Price History is another excellent option for tracking the price of consumer goods online. Whether you are an online seller doing product research or simply an online shopper checking for price drops, you can use this price tracking tool. 
This price tracker can help its users save money while shopping on eCommerce sites like Flipkart, Myntra, and Amazon. The Price History provides advanced features to users, including but not limited to price tracking, price history charts, stock alerts, and price drop alerts. 
Price Tracking Features & Benefits
Users can set alerts for price or stock notifications

Users can check price history up to 1 year
Usage Charge: Free 
This app is an ideal price tracker for those who want to purchase items when the price drops. It automates price monitoring and alert notifications. Amazon sellers desiring to be updated with any price change during holiday sales and deals, including but not limited to Black Friday, Cyber Monday, and Amazon daily deals, should use this software. 
Price Tracking Features & Benefits
Customizable shopping experience

It has a

browser extension

for Chrome, Firefox, and

Microsoft Edge 

The app shows only vetted and voted deals by active and trusted Slickdeals community
Usage Charge: Extension Free 
If you want to compare product prices on Amazon and other marketplaces, you can turn to PriceSpy for help. PriceSpy is one of the world's best price and product comparison services. 
Price Tracking Features & Benefits
The app offers price history for every product

It offers price alerts when there is a price drop

It also provides alerts for new product releases or in stock 
Usage Charge: Free to use
Amazon Repricer for Sellers
A price tracker is ideal if you are monitoring price changes in the market or waiting for the best entry to purchase an item. However, if you are an FBA seller wanting to outbid the competition, a price tracker app may fall short with such a requirement. 
In order to achieve competitive pricing, you should use an Amazon repricer, an automatic AI-powered repricer in particular. An automatic or AI repricer will not just monitor price changes in the marketplace but will automatically reprice your listings while keeping a healthy profit margin.
Unlike price trackers, a repricing software can automate the repricing process to help you win more Amazon Buy Box and become successful in beating Amazon price wars.