Do you want to be a full-time blogger and earn a substantial income from this? Then you need to attract the attention of your audience with an engaging blog.
So, how to you create your blog? If you want to create a success-bound Amazon seller blog fast, start with choosing a professional and feature-rich WordPress template. This will give you a head start!
There's a lot of factors to take into account when choosing your WordPress template. Today, I've prepared a checklist of the top 10 points to consider for your Amazon WordPress theme.
1. Define What Functionality You Need
If you want your Amazon sellers blog to be successful, make sure it delivers awesome user experience to every website guest with the latest functionality. You should first define what design and functionality you need, and then search for the theme that suits your needs.
For successful blogging and lead generation, make sure that your WordPress template offers the following features:
Bootstrap4 responsiveness;
higher user engagement with Parallax and CSS animation;
working contact form;
working Newsletter Subscription Form;
compatibility with MailChimp or other email clients;
prebuilt Social and Social Sharing options;
Then include additional features, depending on your needs. You may need some niche functionality, a beautiful gallery to show photos, e-store functionality and more.  Choose the Amazon WordPress theme that covers your needs.
For example, Eighty Days template is a great match if you want to start a travel blog. This clean and elegant WordPress theme offers you all the must-have modern blogging functionality, 1-click demo import, Instagram feed display, and more.
2. Choose a Theme With a Recent Last Update
To be a successful blogger, you need a modern template. Make sure that you get either a recently released template or a recently updated template. On the web, you'll find a number of multipurpose templates that are both extra-cool for blogging and frequently updated. You'll get all the latest functionality you need for your Amazon seller blog on a regular basis.
For example, Monstroid2 is a multipurpose WordPress theme with over 50 skins that recently experienced a major update. Now it offers you lightning-fast speed, Elementor editing, Jet Plugins, Slider Revolution 6, WooCommerce, etc.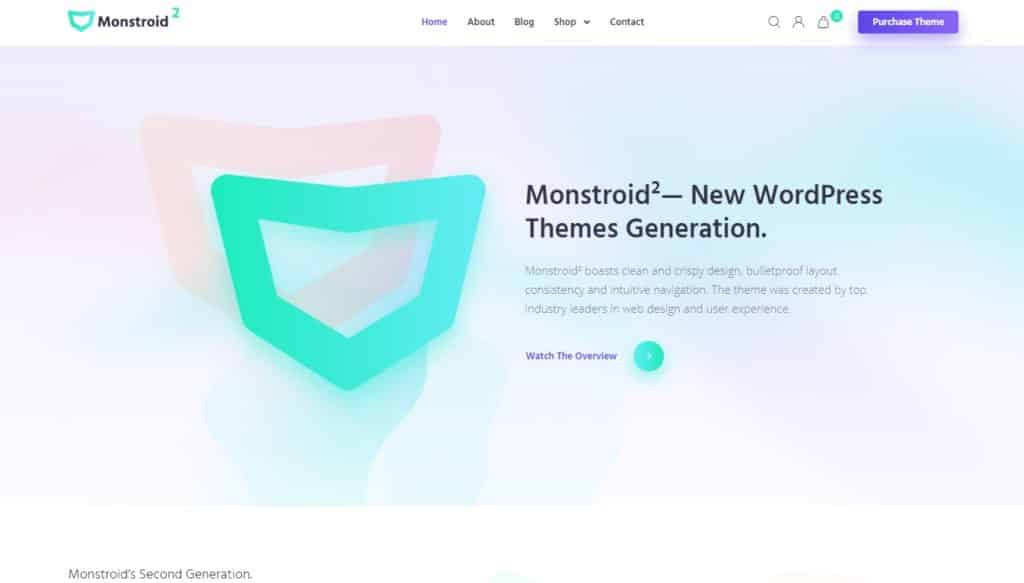 3. Choose a Theme With Good Reviews
Of course, reviews are important. If someone is unhappy with the core theme features, design, responsiveness, support, etc., chances are you'll also feel disappointed.
Choose a theme from a trusted template provider that has positive reviews. Check the reviews not only on the website where the template is sold. Google the template's title and see if there are any independent reviews and ratings for the theme on the web. Also, Google the reviews for your template provider and the support they provide. Mostly positive reviews mean that you're heading in the right direction!
4. Don't Choose the Theme That Everyone Already Use
It's good when your template has positive reviews, but too many reviews may also be a bad sign, especially for a niche template with one skin. If you choose a template with a recognizable design that's very popular, your blog may end up looking unoriginal. That's why I recommend that you either use a multipurpose theme with multiple skins for your blog, or go for a premium template that has no more than a couple of hundreds of downloads.
For example, Vloglab is a recently released fashion and lifestyle blogging theme that has just 2 downloads today. It's fresh with 3 Homepage designs and the latest features!
5. If You're a Newbie, Choose WYSIWYG-ready Template
If this is the first or second website, you can still use WordPress themes. Choose a template that's compatible with one of the popular visual editors, such as Elementor Builder, WP Bakery Builder, Divi, MotoCMS, etc. In this case, you get a chance to edit all the pages and layouts of your website with drag-n-drop and comprehensive editing tools. WYSIWYG editing is intuitive, allowing every web design newbie to create a stunning blog with flying colors.
For example, TechInfo template lets you build an awesome blog around modern technologies using a rich set of skins, pages, and elements inside the drag-n-drop Elementor Editor.
6. Check Theme Demo With PageSpeed Insights
Ensure that you have a fast-performing template, which is optimized to load within 1 – 2 seconds. There's a number of templates on the web that are designed to perform very quickly.
You can check the speed and performance optimization of your future Amazon seller blog template with PageSpeed Insights. For this, open up the Demo of your template and copy its URL. Then, paste the URL next to "Analyze" in "PageSpeed Insights" and hit the button.
If you're looking for a fast-performing Amazon sellers blog template, Gutenberry is an awesome choice. This Gutenberg-oriented blogging multipurpose theme offers you impressive performance. PageSpeed Insights rates Gutenberry 97% on Desktop and 94% on Mobile, which means next-to-perfect performance for your future Gutenberry blog.
7. Check The Template For Errors
You should also make sure that your template has no errors. Check if the main structured data of the template (breadcrumbs, articles, organizations) are working with no errors with Google's Structured Data Testing Tool.
To run a blog free of errors and issues, get a premium theme from a reputed template provider. For example, the Discover WordPress theme for lifestyle blogs passes all the structure and code validity tests.
8. Make Sure Your Template Has Quality Social Options
Social integration is an important factor to consider if you want your blog to thrive. Integrating social networks and Social Sharing functionality from scratch is tricky. Instead, you can utilize a template with all this functionality already built-in.
Look for a blogging WordPress theme that features noticeable Social Sharing buttons after each of your posts and advertises the links to your accounts in social networks to build up your audience there. Daisy WordPress theme for blogs is a good match, additionally offering you amazing social widgets for your Homepage.
9. Check How Responsive Is The Theme
Responsiveness is a must for every modern website. Check if your blog template is responsive with quality web tools. The best way to simulate and test your website on different screens is by using Device Mode in Chrome DevTools. Alternatively, you can also use Google Resizer, a much simpler service available at material.io.
10. Get an AMP Compliant Theme
AMP stands for Accelerated Mobile Pages. This is a technology that significantly speeds up your website's load time and performance on mobile. With AMP, your blog will literally "fly" on mobile, loading within 0.2 – 0.3 seconds. To learn more, check out this guide that explains how to set up Google AMP on your WordPress website.
To choose the right theme for your blog, define what functionality you needed. You should also consider other factors, such as responsiveness, social options, speed, theme structure, etc. I hope that my list of 10 factors to consider when choosing the perfect WordPress theme was helpful for you.