Amazon has evolved into a marketplace that caters to different types of sellers. It continues to improve its platform to offer innovative features for all kinds of online sellers.  
These improvements have not only been advantageous for Amazon resellers, private label sellers, and wholesalers but have also opened doors for other eCommerce participants to join the Amazon marketplace. For instance, the introduction of Amazon Author Central has attracted numerous authors to the platform.
This article will discuss Amazon Author Central, its key features, and the benefits it brings to authors. 
What is Amazon Author Central?
Similar to Amazon Seller Central, Amazon likewise provided a new and updated hub for authors. This platform, known as Amazon Author Central, is intended to help authors boost their presence on Amazon.com. 
Aside from that, Author Central also allows authors to manage their books listed on Amazon through its valuable set of tools and features. These Amazon Author Central features enable book authors to easily promote their work, highlight some book titles, engage with shoppers or readers, and gain vital marketplace insights.  
Simply put, Amazon Author Central is a platform intended mainly for book authors, wherein they can set up their account, create an author profile page, highlight their books, showcase their credentials, author bio, photos and videos, book descriptions and more. 
Amazon Author Central Key features
Having access to Amazon Author Central can significantly simplify the process of selling books on Amazon. This platform for authors offers useful features, including the following: 
Author Profile: Amazon Author Central allows sellers to create and customize their own author profile via a dedicated author page. These Amazon author pages can showcase the bio, photo, and other relevant author information.
An author page also helps readers, shoppers, and followers gain insight into your professional background and work. Moreover, a well-optimized author page helps establish your legitimacy as an author. 
Book Listings: With the help of your Author Central account, you can showcase all your published books listed on Amazon. It is instrumental in guiding readers and Amazon shoppers to discover your other works.
Customer Reviews: Similar to other Amazon product listings, book listings also have a section dedicated to customer reviews. With the help of this Amazon Author Central feature, you can gain insights or feedback directly from actual buyers or readers of your books. 
Sales Data: To help you with your marketing strategy, sales data are likewise available on the Author Central. This information can help you track your book sale performance, enabling you to make informed marketing and promotional strategies that can further enhance your book sales.  
Marketing Tools: You are able to market your books on Amazon with the help of Author Central marketing tools. These marketing tools can help you run promotions, create book trailers, and even participate in various marketing programs, such as Kindle Countdown Deals for your Kindle books. 
Editorial Reviews: Author Central provides a section for editorial reviews, showcasing essential book reviews and endorsements. This feature assists readers and potential book buyers in making more informed decisions when purchasing your books.
Amazon offers these resources to all authors who wish to promote their listed books on Amazon.com. The said features and tools enable authors to build their brand, establish a more robust online presence, and ultimately reach a broader audience of potential readers.
Understanding Amazon Editorial Reviews
Incorporating Amazon editorial reviews onto your listing page is an element you should not overlook when selling books on Amazon. An editorial review is a powerful marketing tool that can significantly enhance your sales performance.
What Is An Amazon Editorial Review?
Amazon editorial review is an assessment of a particular book undertaken by an individual or organization qualified to analyze or review books. These reviewers are not your typical book shoppers on Amazon but those trained to perform book reviews such as prominent authors, publications, book review sites, and magazines. 
Amazon editorial reviews tend to carry more weight because they are performed by experts, which somehow influences the purchasing decisions of Amazon shoppers. In a sense, editorial reviews further persuade readers to buy your book.
If you want to add editorial reviews on Amazon, simply follow the steps outlined below:
Step 1: Begin by logging into your Author Central account.
Step 2: Once you are in your Author Central page, navigate to the top part of the page and click on the "Books" tab.
Step 3: Upon reaching your Books Page, select the specific book title you intend to edit. You will be redirected to another page, and once redirected, click "Edit book details,"
Step 4: Once redirected to the editing page, look for the "Edit" button within the editorial reviews section.
Step 5: After clicking the edit button, a pop-up window will appear where you can enter the editorial review you have received. When pasting the editorial review, be sure to provide proper attribution to the source of the review.
Step 6: Once you have added the editorial review, you can preview it before submission. This gives you a chance to make necessary formatting changes.
Note that the editorial reviews submitted via Amazon Author Central page will take a couple of hours to appear on your sales or book page. 
How to Obtain Editorial Reviews?
The good thing about editorial reviews is that they can be obtained from various sources. For instance, you can connect with book review platforms and reputable book bloggers. Often, these platforms extend their services without charge.
Alternatively, you can consider engaging with book review companies. These companies will assess your book and furnish a review for a fee. Some of the popular choices include Kirkus and Publisher's Weekly.
Lastly, another method involves seeking feedback from fellow authors within your genre. Their assessments can serve as testimonials in the Amazon Editorial review section.
Optimize Your Amazon Author Page | Managing Your Author Profile
As previously discussed, the Amazon Author Page provides readers and shoppers with more information about your work. It serves as an excellent platform to showcase and promote your existing or any ongoing projects. To ensure maximum effectiveness, optimizing this feature within Amazon Author Central is essential. 
This involves incorporating all relevant information, including the author's personal information and other relevant information about the author's work. The following key details should be included and carefully optimized on the author's page:
Professional Author Photo: Your Amazon Author Page should have an engaging and polished image that represents you as an author in a professional manner. 
Well-Crafted Bio: A good biography for the author page should highlight personal information, professional background, interests, and relevant accomplishments. As much as possible, make the "About the Author" page engaging. 
Book Display: Similar to listing retail products on Amazon, your book display or images should also comprise a visually appealing arrangement of your books. This will be displayed from left to right, allowing potential buyers or readers a quick perusal of all literary catalogs. 
Follow Button: Make sure that you have the Follow button active, for it is an easy way to allow interested shoppers or readers to follow your page and be updated on new releases. 
Integrated Social Media and Blog Posts: Be sure to link your social media accounts or blog page to your author page so that your followers or potential buyers can check the latest book updates. 
Why Should Book Authors Maximize Author Central? | Amazon Author Central Benefits 
Amazon Author Central offers various benefits to authors. Maximizing Author Central can help you achieve your goals as an author. Here are some benefits authors may obtain when joining Amazon Author Central. 
Foster a Connection with Readers: With the help of an Amazon Author Page, readers can quickly get to know you as an author. You can easily promote yourself as an author through your profile, while readers can also be exposed to your work and upcoming releases.
Gain Valuable Book Insights: When you sign into your Amazon Author Central account, you can access valuable data insights about your books. You can keep track of your sales rank and check on customer reviews. 
Streamline Book Management: Author Central also helps you manage all your books from a single location. There is no need to create multiple accounts to manage different books listed on Amazon, making tracking information and listing optimization much easier for authors. 
Reach a Global Audience: With the help of your Author Central account, you can optimize your bio in multiple languages. Thus, helping you reach more readers across the globe. In a sense, while you are writing locally, you can reach audiences globally.
Setting Up Your Author Page on Your Amazon Author Central Account
Just like having an Amazon Seller Account, setting up your own Author Central account is essential to improve marketplace visibility and customer engagement. Here is an overview of the process of creating an Author Central account:
STEP 1: Access the Marketing page in Kindle Direct Publishing (KDP).
STEP 2: Select the desired marketplace for your Author Page from the provided drop-down menu within the Author Central section.
STEP 3: Proceed by clicking "Manage author page."
STEP 4: You will be redirected to Author Central, where you can click "Join for free" and use your KDP account details to complete the sign-up process.
Amazon Author Central FAQs
Here are some frequently asked questions concerning Amazon Author Central. 
What Amazon marketplaces support Author Central?
The following marketplaces support Amazon Author Central:
Amazon US

Amazon UK

Amazon Germany

Amazon France

Amazon Japan

Amazon Brazil
How do I find my author page on Amazon?
Acting like one of your readers is the best way to find your author page. You may do so by searching for one of your books on Amazon. Once you have found your book in the search results, click on the author name or your pen name.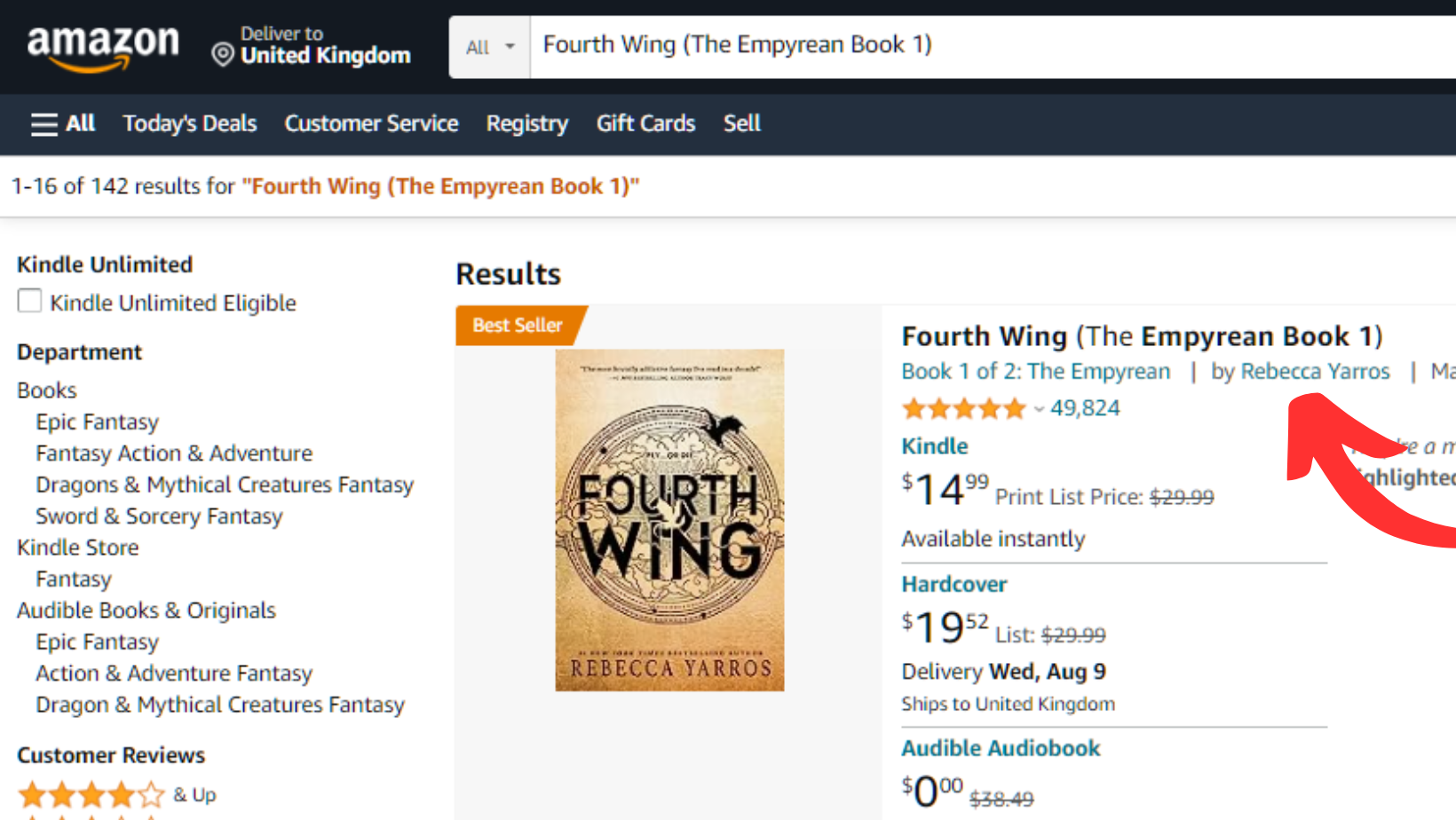 Image Source: https://tinyurl.com/2p8nhkfj
How do you update the Amazon Author Page?
If you are the author shown on the author page, then you can use Author Central to update the author page. However, if you are not the author, you can request an update or changes on the author page via the general feedback form.
Create Your Amazon Author Central Account Today
Whether you are a seasoned author or just starting your literary journey, Amazon offers a valuable platform to boost the visibility of your work. An Amazon Author Central account can enhance your reach and entice more readers to discover and purchase your books. By having an Author Central account, you can leverage its features to connect with your audience and promote your books effectively.