Seller Snap New Technology Updates and Features 2020
The past year has been an exciting one for Seller Snap. The development team has been extremely busy rolling out new features and updates. Here is a complete list of Seller Snap favorite features and updates as chosen by our clients and the Seller Snap team.
INACTIVE LISTINGS
Seller Snap built a new feature into the AI algorithmic repricer setting to deal with listings that are being deactivated by Amazon due to pricing errors. Depending on the scenario, the repricer now has the ability to automatically reactivate inactive listings.
AI REPRICER BEHAVIOUR WHEN AMAZON IS ON THE LISTING
Amazon tends to rotate the BuyBox between sellers who are at the same price point and have the same fulfilment method. However, in situations when Amazon is on a listing and sellers are not getting their fair share of the BuyBox (potentially not making sales), the AI repricer will become more aggressive and automatically switch to the "Win BuyBox" repricing method for periods of time to ensure sellers are getting their entitled BuyBox share.
WIN BUYBOX
Client Favorite
On-top of the AI algorithmic repricer, we also launched a different and more aggressive repricing setting. You can now specify a target BuyBox percentage that you want to achieve for each specific listing.
FOLLOW RELATED ASIN
Seller Snap CEO, Eli's favorite
This repricing method is useful for listings where you are the only seller, getting 100% of the BuyBox (such as when selling private/white label products). The repricer checks the BuyBox price of the related ASIN and adjusts the price of your listing according to the rule you define.
Seller Snap also launched Follow Multiple Related ASIN, allowing sellers to follow more than one related ASIN. The repricer will adjust your price according to the rule you set and the BuyBox prices of the related ASINs.
MINIMUM AND MAXIMUM CALCULATOR
Seller Snap's min/max calculator allows you to set your min and max prices based on your costs and markups. The calculator takes into account your purchase cost and any additional costs and Amazon fees (i.e.relevant selling costs).
AUTO-ADJUST FEATURE
Seller Snap team member, Piri's favorite
The Auto-Adjust feature allows you to "set it & forget it". Anytime any of your relevant costs change, or Amazon fees change, this feature will automatically readjust your min and max prices based on your markups.
STORAGE FEES
Seller Snap retrieves FBA storage fees directly from Amazon. These storage fees are based on dimensions, weight and category.
REIMBURSEMENT DATA
Seller Snap client favorite
Understand your true profitability by using Seller Snap's reimbursement data. We will calculate how much money sellers receive back for reimbursed items and how many items were sent back to Amazon and are available in inventory after reimbursements.
REPLENISHMENT QUANTITY SUGGESTIONS
Make better purchasing decisions through replenishment data. Seller Snap will generate replenish by date and quantity suggestions to ensure you never run out of stock. Tell us your required days of coverage and we will do the rest.
TOTAL REVENUE DIFFERENCE AND TOTAL PROFIT DIFFERENCE
Seller Snap team member, Ian's favorite
The sortable Total Rev. Diff and Total Profit Diff columns show the change (either positive or negative) of revenue/profit in the period you're looking at. This helps you identify your winners and losers from the previous time period.
SFP LISTINGS AND FOLLOW BUYBOX CONDITION
Seller Snap team member, Tali's favorite
For clients with SFP listings, you can tell the repricer that if the BuyBox winner is FBM/FBA to increase/decrease your price by an amount or percentage. Additionally, you can set an amount/percentage if the BuyBox winner is Amazon. This entire repricing method results in sellers potentially getting the BuyBox anywhere that they are prime.
SFP COMPETITORS
If you are competing with an SFP seller, you can check the box to tell the repricer to auto-adjust your max price based on SFP offers to ensure you are never more expensive than the lowest SFP offer.
ADDITIONAL CONDITIONS
The platform now has the ability to use several conditions in unison/multiple conditions at one time.
SET TO LAST PURCHASE PRICE
For multiple listings or individual listings, the repricer is able to revert back to the last purchase price if you didn't make a sale in X amount of hours. You are able to keep your default repricing settings in place while reverting the price back to the last purchase price.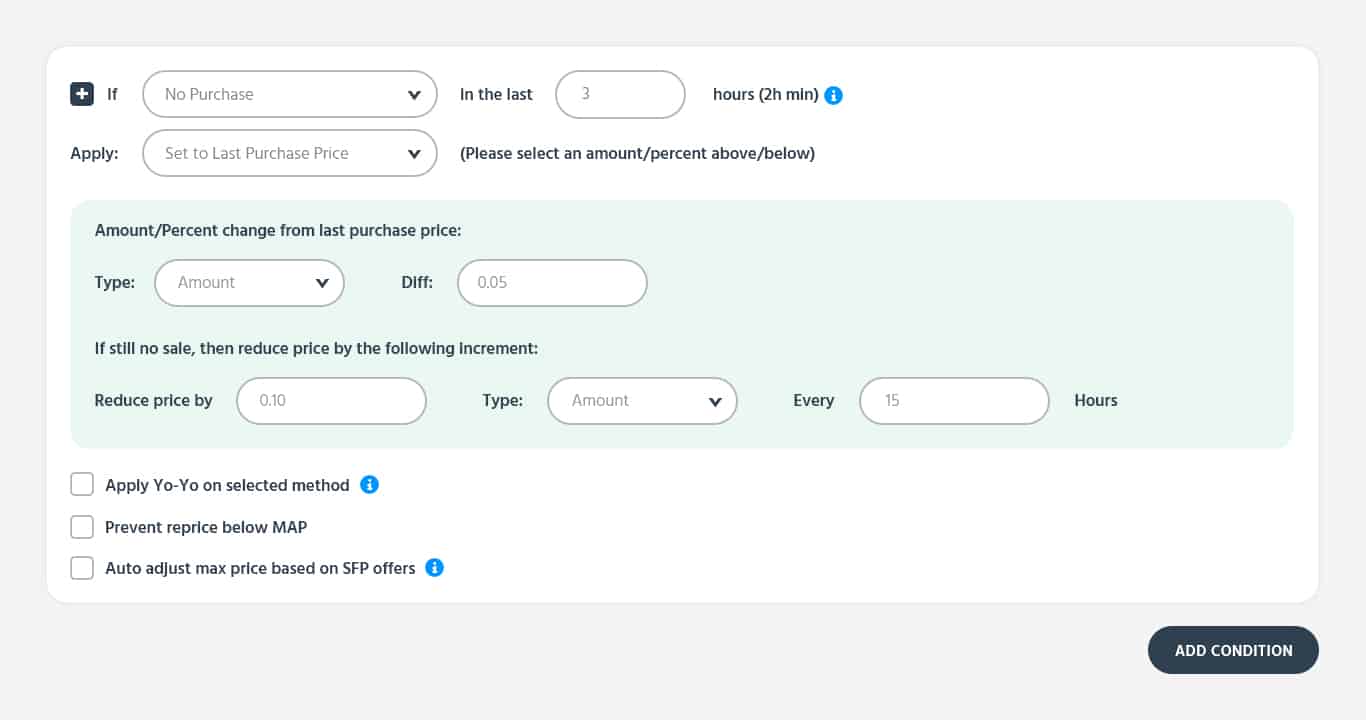 REOCCURRING PRICE CHANGE
This condition allows you to set an either increasing or decreasing price change by time. "Change price by -$0.10 every 15 minutes". This can be set as your default repricing method.