Have your sales numbers been letting you down lately? You might be forgetting this important rule — What isn't seen can't be sold.
You could have a brilliant product or service to offer, but people won't buy it unless they know it exists. Whether it's potential loyalists waiting with bated breath for the exact thing you're selling, indifferent buyers that treat your and your competitors' offerings as homogenized and interchangeable, or someone that has no idea they need your product — they're all going to stumble upon your website from vastly different sources.
They could find you through an industry newsletter, a social media influencer, or trusty old Google, so you need to make sure you're getting your name (and backlinks) out there.
eCommerce link building, or the practice of getting relevant, reputable, eCommerce websites to link back to your site, is how you get as many of these people as possible to discover you. If a popular, trusted website includes a link to your eCommerce site, it's giving you its stamp of approval and recommending that its visitors check you out.
For starters, blogging alone could get your online business 97% more inbound links and 55% more visitors. As you intensify your link-building efforts, you're going to rank higher on Search Engine Result Pages (SERPs). And the more organic visibility you have, the faster your sales grow.
What Are the Top Methods to Do eCommerce Link Building?
Here are some link-building tactics and strategies that can amp up organic traffic and drive sales to your e-commerce store:
Tactic 1: Create Linkable Content
Linkable content is content that people find so useful they keep referring to and building links to it, securing you an endless supply of backlinks.
Interviews, quizzes, ebooks, and anything informative and insightful, are all resources that rank high on the shareability scale. If your content is easy to read and crawl, it might even land you the top spot on SERPs.
The most obvious way to create linkable content is to find out what your competitors are doing, and then do it even better. Ahrefs' Competitor Analysis lets you find their most linked-to pages, so you can create something similar.
You can also ask your own customers what you can do to help them through a survey or poll. If you've noticed a term being used often in your comment section, try to cover it in your next blog. Your focus should be on creating content that your target audience finds useful and/or entertaining, and then presenting it in easily digestible packets.
Eminence Organic's blog post educating their customers about monoi oil, an ingredient they use in their products, won them a backlink from Wikipedia.
You can optimize your content for SEO by doing keyword research on trending topics and making a list of longtail keywords to use in your post. Use blog titles, headings, and meta descriptions to build links and make it easier for bots to crawl your website.
Tactic 2: Utilize Guest Blogging
Guest blogging is another terrific link-building strategy to reach new audiences. It doesn't just boost organic and referral traffic by 80%, it positions you as an industry or thought leader, which when leveraged with link-worthy content, can establish an engaged viewer base that hangs on to your every word.
You can find guest blogs by using search operators like these on Google.
Or with Ahrefs' Backlink Checker to find out which blogs your competitors are guest-posting on, and then pitch to them. If you're looking for my guest posting ideas, you could also try the byline technique, which involves searching for a website with many contributors, copying a writer's bio into Google Search, examining the sites they have written for, and contacting those brands. Many of these sites do not openly publicize that they accept guest posts; some brands can be quite big.
You can use their Content Gap tool to do keyword research to select your topic. Make a list of keywords that the competitors of the blog you're pitching to rank for which they don't.
Instead of manually searching for contact information, you can use email finder tools to find valid email addresses of editors that you'll use for pitching your guest post ideas. It rounds up all the email addresses linked to a domain from various sources on the internet so you don't have to.
If you don't get a response to your email, follow up at least twice. Or message them on other channels to get their attention.
When your guest posts get published, make sure you're sharing them with your existing readers. Instead of just using quality links and relying on the blog's high authority, you're also improving the page quality itself to get yourself a top-performing backlink that will get you noticed by search engines.
Tactic 3: Build Relationships with Influencers
There's a reason eCommerce brands and businesses shell out big bucks for their social media campaigns and Amazon has its own influencer program. Influencers are growth drivers in the eCommerce segment and possess massive eCommerce link-building potential.
So much so, 82% of consumers have researched, considered buying, or bought a product because of a friend, family member, or influencer's recommendation.
Platforms like Aspire and Phlanx let you find and sort through influencers according to their following, engagement, follower demographics, etc.
You can reach out to them through these platforms, by using the contact information in their bio, or by DMing them. Make efforts to personalize your message, and be upfront about your expectations as well as the remuneration they can expect.
And remember, social media influencer relationships have to be nurtured, just like customer relationships. You can show your appreciation to them by sending them freebies, invitations to product launches or other events, and sharing their posts on your own account or commenting and liking them.
A good example of long-term relationship-building with influencers paying off is Glossier's long-term partnership with YouTuber Arden Rose. It spans back six years, which is an eternity in social media terms.
The videos have garnered millions of views on YouTube alone, and go a long way in establishing trust and authenticity for the brand.
Tactic 4: Focus on Unlinked Brand Mentions
When people mention a brand in their blog posts, they usually link to it. While unlinked brand mentions are still great for brand awareness, backlinks to your website improve your site rankings.
To find out if someone has mentioned your business in one of their posts, but hasn't linked back to your product page, use Ahrefs' Content Explorer or Brand Mention's brand monitoring feature.
Ahrefs lets you find all the times your brand has been mentioned. All you have to do is select the highlight unlinked brand mentions filter here.
Brand Mentions has a special feature dedicated to the purpose.
Going forward, you can also set up Google alerts that notify you when someone mentions your brand.
Once you have a list ready, you can start sorting them in descending order of domain authority. Find the contact information of the writer and/or the editor of the blog, and before you start outreach, verify the email addresses on your list to filter the invalid and non-functional ones.
Start your email with an introduction and a genuine compliment or suggestion about their blog post. Specify the post that mentions your brand and ask if they could link back to your eCommerce website, as in this template.
If they've mentioned a product, you can ask them to link the anchor text to the product page.
Tactic 5: Publish Statistics Pages in your Industry
Statistics pages are big crowd-pullers. Adele concerts and Black Friday sales in the 2010s were big. So if you've been struggling to get your blog off the ground, consider publishing a compilation of statistics to amp up your eCommerce link-building efforts.
First, you'll have to find out what everyone in your industry is talking about. You can trawl Twitter, LinkedIn, Instagram, or even trade forums for ideas.
If you want quicker results and have a subscription, you can use Ahrefs' Keywords Explorer. It'll tell you which statistics are the most talked about and linked to in your industry.
Pick a long-tail keyword with decent volume and not a very high difficulty. Since content creators are already looking for it, it'll start getting picked up in no time. The more people visit your statistics page, the higher you're going to rank, which in turn earns you more backlinks.
Tactic 6: Image Link Reclamation
Original images of any kind (product photos, infographics, graphs, etc.) from your website can be borrowed by others, often without your permission.
Take for example this infographic from Wordstream explaining the most popular social media platforms of 2022.
Of the websites that have used it, Business 2 Community which has a domain rating of 90, hasn't linked to Wordstream. In such a case, Wordstream should ideally reach out to the other website and claim credit for the image.
Images that have been linked to the source image instead of the post or product page it was taken from are not going to help your website's ranking either.
To keep track of who's been using your visual content without your permission, export the image URLs of the most popular pages (or of all pages if you want to be very thorough) on your website to an Excel sheet and reverse image search them on Google.
If a website owner hasn't linked back to your website or linked it wrongly, write them an email taking credit for the image and asking for a backlink, as we do here.
Tactic 7: Affiliate Partnerships
When it comes to promoting products, it often feels like nothing is ever enough. There are strategies to be devised, ad spaces to be rented, campaigns to be run, and about a thousand promotional messages to be written. All this can be exhausting and expensive, and affiliate marketing promises to take a lot of the pressure off.
Affiliate partnerships are word-of-mouth referral programs that pay affiliates to write about and link to your products for a commission on the sales generated by them. The biggest advantage of these programs is their scalability.
Amazon's affiliate program pays a fixed percentage depending on the product category.
As of February 2023
This referral fee is added to your Amazon seller fees.
For sales from your own website, you can either work with affiliates directly or partner with an intermediary. Either way, in order to ensure your payouts are significant enough to attract the best affiliate marketers, an intelligent repricing mechanism like Seller Snap will help you beat competitors while retaining sufficient profit margins to pay affiliates.
It's important to remember that affiliate marketing links are nofollow links, which means they don't directly contribute to your ranking. But the organic visibility they offer will ultimately boost traffic and drive sales.
Tactic 8: Create FAQ Pages
FAQ pages answer commonly asked industry and product-specific questions. Because they contain longtail keywords, someone searching for, let's say, the packing requirements for a hike, will see them first. If the answer contains the information they were looking for, they're going to head over to your website to read the rest of the article. Like in Rei's, an outdoor gear company, case.
It ranks #1 for the long tail keywords "packing for a hike" and "what to pack for a hike", and has 1100 backlinks.
It's a value-rich link-building strategy, and if you're aiming for something similar, your focus should be on providing value-rich and digestible information on your FAQs page.
Since it's likely to be shared on social media or be quoted in blog posts, it'll also generate organic traffic to your own eCommerce store or website and put you in touch with an audience that you can then nurture further down the sales funnel.
Conclusion
The Ccommerce link-building strategies listed here aren't based on outreach and content marketing alone. Their primary component is your commitment to producing quality, authoritative content. Remember to make the relevant disclosures about sponsored content when partnering with an influencer or affiliate, and continue to monitor, review and tweak your link-building strategy to keep up with market trends.
Instead of spreading yourself thin trying to implement all of these methods at once, shortlist two or three that fit your business profile. Re-prioritize again and focus on perfecting one method at a time. Divide the whole process into parts. This will let you identify bottlenecks and where they occur, so you can boost your organic visibility and have your eCommerce sales skyrocket to new highs.
——
About the Author: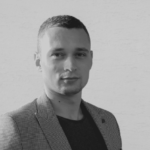 Antonio Gabrić is an outreach manager at Hunter and co-founder at Saasmatic. He is passionate about testing different outreach tactics and sharing results with the community. When he is not connecting with industry leaders you can find him on his motorbike exploring off-the-beaten paths around the world.