"When is Mother's Day 2023" has seen a search spike in the past few days as consumers prepare for the upcoming Mother's Day 2023. Online shoppers direct their focus on Mother's Day gifts or Mother's Day gift ideas as this year's International Mother's Day celebration draws near.
With consumers' growing interest, Amazon sellers and other entrepreneurs are given an opportunity to supply the needs of consumers for Mother's Day. To help you increase your Amazon Mother's Day sales, below are some important insights and Amazon selling tips to help you prepare your Amazon store for Mother's Day 2023.
When Is Mother's Day 2023? | Mother's Day Celebration Around the Globe
As the name of the celebration would suggest, Mother's Day is a day that celebrates motherhood and maternal bond. This day honors mothers and maternal figures for all the dedication and sacrifices they have made for their children.
Concerning the question, "When is Mother's Day 2023," the answer varies depending on which country you are in. However, International Mother's Day is observed on the second Sunday in the month of May. And for this year, Mother's Day is celebrated on May 14, 2023. 
Knowing when a particular country celebrates Mother's Day gives Amazon sellers a competitive advantage, especially those sellers who operate internationally through Amazon Global. It gives sellers ample time to prepare their Mother's Day campaign, and know more about their target audience as well as raise brand awareness.
For Amazon sellers, here are the Mother's Day dates for each Amazon international marketplace:
Mother's Day Celebration – Mar 19, 2023
Mother's Day Celebration – Mar 21, 2023
Mother's Day Celebration – May 7, 2023
Mother's Day Celebration – May 10, 2023
Mother's Day Celebration – May 14, 2023
Mother's Day Celebration – May 26, 2023
Mother's Day Celebration – May 28, 2023
Mother's Day Celebration – June 4, 2023
Mother's Day Gift Ideas | Items Your Amazon Store Should Have
Mother's Day spending is something to anticipate by eCommerce businesses. In the past few years, there has been an increase in Mother's Day purchases, particularly in the United States. In the past five years, the planned total spending of US consumers has increased from 23.1 billion in 2018 to 31.7 billion in 2022. 
As the trend continues, it is expected that consumers will spend more to celebrate Mother's Day. To anticipate the demand for Mother's Day gifts, here are some gifts that tend to be popular among consumers, according to the National Retail Federation.
Greeting Cards

Flowers

Gift Cards

Clothing & Accessories

Jewelry

Houseware Tools

Gardening Tools

Books or CDs

Electronics
The products and categories mentioned above can serve as your guide on which products or categories your resources should be focused on to have a profitable Mother's Day 2023. 
Tips to Boost Profitability of Your Amazon Store | Mother's Day Marketing Campaign
Competition on Amazon can sometimes be tough, especially if you do not know the right approach to the market. If you are new to Amazon and you wish to maximize your Amazon sales and revenue this coming Mother's Day 2023, you can follow these practical tips: 
Conduct Research
Before testing any of your Mother's Day marketing ideas, you should not forget to conduct research to raise awareness. Proper research will give you the actionable information you need to get the most out of your Mother's Day marketing ideas.  
When doing research for your Mother's Day marketing campaign, your goal is to ask the right questions in relation to the Mother's Day campaign. Some of the research questions that need to be answered include the following:
Who are your target customers, and how do they behave? 

How much do they plan to spend? 

What influences their purchase decision? 

Where are they located?

What is the profile of an ideal customer?

What is the profile of a typical competitor?

What are your competitors' main strengths and weaknesses?
Once you have gathered answers to the Mother's Day campaign questions above, you can organize the results and then interpret. After data organization and interpretation, you should draw conclusions and take action to improve your Mother's Day marketing campaign.
Optimize Product Listings
One of the effective ways to increase Mother's Day customer engagement is to optimize your listings in preparation for Mother's Day campaigns. To do so, you must familiarize yourself with Amazon search engine optimization or simply Amazon SEO. 
The eCommerce giant itself refers to Amazon SEO as "the process of optimizing product listings to help them rank higher in product searches on Amazon.com." Amazon SEO's main purpose is to help sellers achieve the following:
Drive traffic

to product listings

Increase product and brand visibility

Boost conversion rates and sales growth
In order to optimize your product listings and achieve favorable results for your Mother's Day sale ideas, Amazon suggests optimizing the seven essential parts of your product listings in preparation for Mother's Day. Here are the things you should focus on to improve product listing optimization:
Keywords
You should use words and phrases that online shoppers will likely use when searching for Mother's Day gifts online. You can compile a comprehensive list of keywords with the help of keyword research tools or even use competitor keywords as a starting point for your keyword research. 
Product Images:
Make sure to use high-quality images for your Mother's Day listing photos to convey key features of your product easily. Amazon suggests using clear, informative, and attractive photos, which should have a white background and fill at least 85% of the image space.
Product Titles
Apart from adding essential keywords to the title whenever possible, you should also follow Amazon guidelines for product titles. Here are some of the reminders to keep in mind when developing product titles for your Amazon listings:
The title should match the actual product title appearing on the product packaging.

Titles should contain the minimal information needed to identify the item and nothing more.

The recommended title length should be at least 60 and fewer than 80 characters.

Avoid using all caps for your product title; only the first letter of each word, except for prepositions and conjunctions, should be capitalized. 

Use numerals for numbers instead of number words. 
Product Descriptions
In order to create an effective product description, it is highly suggested to include brand names, sizes (if applicable), material type, and other relevant details, such as product color (if applicable), packaging, and quantity (if applicable). By doing so, you are giving Amazon shoppers an opportunity to find, evaluate, and eventually purchase your Mother's Day listings. 
Key Features
Key features or bullet points should be optimized to communicate clearly to Amazon customers the features and benefits of your product. It should follow bullet point guidelines, such as:
Having five bullet points for each product.

Keeping bullet points under 1,000 characters in total.

Emphasizing five key features you want customers to consider.

Avoiding promotional and pricing details. 
Backend Keywords
Optimizing backend keywords can further enhance product discoverability for Mother's Day 2023. These keywords are not visible to Amazon shoppers, but it helps Amazon index your product. Some of the important guidelines for optimization include using generic words, synonyms, abbreviations, alternative names, and spelling variations of your products. 
Product Pricing
Price greatly influences the conversion rate of your Mother's Day sale, which is why you need to offer a competitive price to shoppers. When adjusting your listing price, it is best to always consider your overall expenses, including Amazon fees and competitor prices. 
However, if you have no time to research competition and constantly adjust listing prices manually, you can automate price adjustments with the help of an advanced Amazon repricer. 
Offer Mother's Day Deals and Discounts
When shopping for Mother's Day gifts, shoppers are naturally attracted to Mother's Day deals and discounts. You can capitalize on this tendency of consumers to favor Mother's Day discounts by creating your own Amazon Mother's Day promotions and discount offers. 
One of the Mother's Day marketing ideas you can set up to help you with Mother's Day sales is the Amazon Lightning Deal. This time-bound promotional offer enables you to feature your product on the Amazon Deals page for about 4 to 12 hours (as determined by Amazon). Lightning Deal gives you the opportunity to offer personalized gifts and Mother's Day themed items.
To be eligible for Lightning Deal, you must be a Professional Amazon seller with an overall rating of at least 3.5 stars. In addition to that, your product must likewise meet the criteria set for product deals eligibility. 
Another effective tool to increase your Mother's Day sales is to use Amazon Coupons. You can offer discounts for a single product or set of products via coupons, making it irresistible for consumers to consider your product. Amazon Mother's Day Coupons can also eliminate the need for discount codes or loyalty cards.
Getting started with Amazon Coupons is easy. As an overview of how to create Amazon Coupons for Mother's Day 2023, you need to do the following:
Step 1: Add products to your coupon (up to 200 products in one coupon).
Step 2: Set a discount amount and budget, either a percentage or money off discounts.
Step 3: Set duration for coupon validity, which can be set up to 3 months.
Step 4: Once the initial processes have been performed, simply review and submit your Amazon Coupon for Mother's Day. 
Besides coupons and Lightning deals, other Mother's Day promotion ideas and deals options include 7-Day Deals, Event Deals, and Prime Exclusive Deals (PED).
Take Advantage of Amazon Ads
Another way to improve your Mother's Day sales is to maximize the use of Amazon Ads. Some of the popular choices for Amazon Ads include Sponsored Brands and Sponsored Products.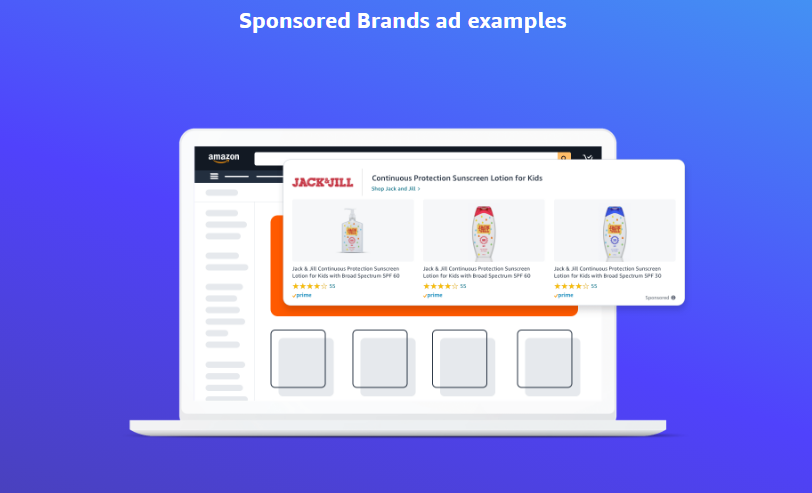 Amazon Ads: A screenshot(cropped) Sponsored Brands sample; Retrieved: April. 19, 2023, From https://ads.amazon/3GUkbuy
For the former, you can use this to increase brand discoverability through creative ads appearing on relevant Amazon search results. The latter, on the other hand, will make it easier for customers to see your Mother's Day products on shopping results and product pages. 
Those who have used Amazon Sponsored Brands and Sponsored Products for their advertising campaign have observed a +50% increase in units ordered and a +57.8% increase in conversion rate. 
Automate Repricing
One of the marketing mixes that can significantly influence the purchasing behavior of online shoppers is price. Hence, you should be able to offer competitive listing prices to consumers. 
Offering a competitive listing price not only influences consumers' buying habits but also influences the Amazon Buy Box algorithm. The Amazon Buy Box favors competitively priced listings, so you should develop a reliable and effective pricing strategy to win the favor of shoppers and have your products featured on the Buy Box.
To help you optimize your listing price, you can use an Amazon repricer. Prior to the introduction of sophisticated repricing software, sellers simply relied on manual repricing and rule-based repricing for price adjustments. 
Manual and rule-based repricing methods require considerable time and effort to perform. Moreover, human error and the repricing limitations of both manual and rule-based repricers cause sellers to lose profit.
To obtain a competitive edge and improve your pricing strategy for Mother's Day 2023, consider using a more sophisticated AI repricer. In particular, an AI repricer like Seller Snap can automate the repricing process on your behalf without having to worry about Amazon price wars or incorrect price adjustments.
Harness the Power of the Most Advanced Amazon Repricer & Business Intelligence Solution in the Market
Fixed price. No contracts. Pay as you go. Cancel anytime.
Save Time. Avoid Price Wars. Maximize Profits.
Maximizing Sales This Mother's Day
Mother's Day is an annual celebration that honors mothers and maternal figures. From an Amazon seller's perspective, it is an opportunity to assist consumers in finding the best Mother's Day gift while improving their sales performance. 
You can make Mother's Day shopping easier for shoppers by creating Mother's Day gift guide content, such as a gift guide blog post. In addition, you can also improve your digital marketing campaign by creating engaging social media posts on various social media platforms.
In order to help you maximize this celebration in favor of your Amazon store, you can start optimizing your Amazon business for Mother's Day 2023. The tips and insights highlighted above can help you plan ahead, implement effective strategies, and provide exceptional customer service.